Another year has past. Maybe I am not the only one who feels like time flies by more quickly the older I get. Although every year has the same amount of days, hours, minutes and seconds. All accept a leap year and to be honest 2020 was a leap year and therefor one day shorter.
But why does time feel so differently? Why does just a few minutes waiting in the cold for the train feel like eternity but a wonderful evening with friends ends too soon? 
Time is a highly subjective sensation. The psychologist Marc Wittmann tries to explain the different feelings of time: "Our brain has areas for our vision, hearing and smelling but there is no area in the brain for time. Ich believe that we are sensing time through our body." There is simply no organ, that is responsible for time.
So if time goes by quick or very slow depends according to Wittmann on how aware we are of time. When we are very much into something, we do not take a look on our watch or smartphone to check the time. This is what Wittmann describes what happens when we grow older. As children or teenager we experience almost every day situations that are exciting and new.
Things we have not experienced before. These situation are much more intense and we are much more conscious about what is happening. But over the years our everyday life consists more and more out of routines, there are hardly things that are new. According to Wittmann's theory time feels shorter if we are not consciously experiencing what is happening.
Maybe this could be an explanation why 2020 felt longer than the years before: The Corona-Virus was something complete new – how to handle the situation and restrictions. If Wittmann is right with his theory we are lucky and 2021 goes by quicker as we are more used to the situation. We know there is a virus and all the restrictions that come with it. That is maybe a nice thought: 2021 could be over very quickly.
No matter how fast the time will go by: CORNEHL Watches will keep crafting unique timepieces for you. We wish you a healthy year, full of hope and joy!
Resources: Marc Wittmann, Felt Time: The Psychology of How We Perceive Time.
The silver dial and grand modern designed numbers gives the watch a clear appearance, whereas the blued hands are a striking contrast on the dial. The hour and minute hand are indicated in the center, the large second hand ist shown on a second dial at 6 o`clock.
The case is made out of stainless steel and is available at two different sizes (Diameter = 40 or 42 mm) to have the perfect look at its owners wrist. The height of the case measures 11,5 mm. At the bottom behind the sapphire glass lies the movement, the heart of the watch.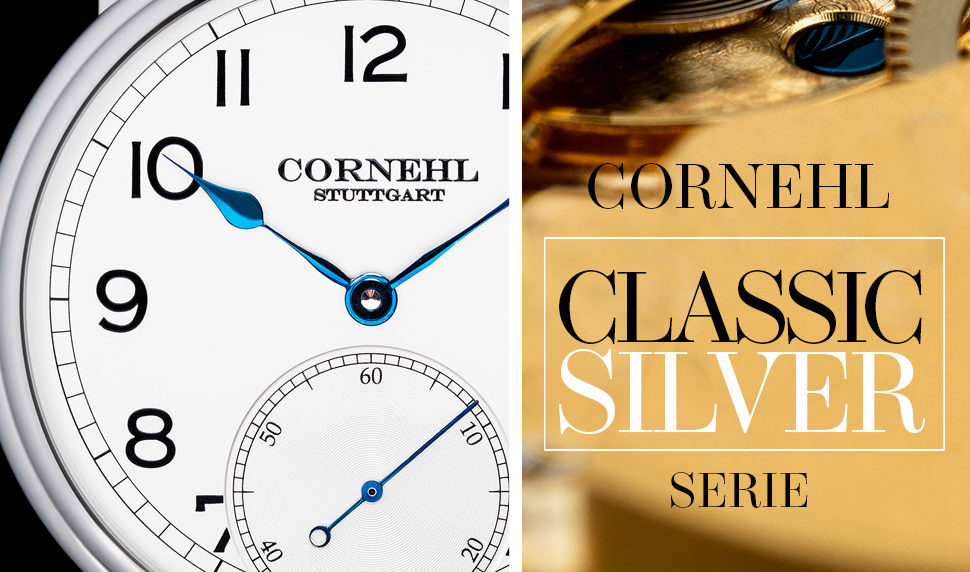 The handmade refined movement is based on Unitas 6498 and has been adjusted aesthetically and technically, just like the Regulator movement. The 3/4 bridge has four screwed gold Chatons and al screws have been thermally blued by hand. The movement has a second-stop-function.
The design of the watches can be customized in order to meet the owners preference of style: The case can be chosen with tapered lugs or with straight lugs. For the bezel we have flat, double-concarve or flutet once.