Why does someone who has a successful career as an engineer decide to become a watchmaker? Especially in a time of smart watches? Learn more about Steffen's story or – The Story behind CORNEHL Watches:
I was born in a family of craftsmen. My father and my grandfather were master baker and confectioner. They had their own family business. So already at a young age I learned what it means to own a business. School on the other hand was rather boring for me and I was not a good student. Still, after school I made an apprenticeship in retail sales in a jewelry store in Lueneburg in the north of Germany. There I saw the watchmaker sitting in the workshop repairing clocks and I thought, "This is fun to them, I give it a try."
In my watchmaker apprenticeship, I learned how a watch works in order to repair it. After my apprenticeship I started to learn repairing antique clocks and vintage watches. It was something that I did in my free time besides my job as a watchmaker. It became a passion. So I visited different master watchmaker and ask them to teach me. Things like turning a balance stuff, making a verge for a verge escapement, making wheels and pinions for clocks and also for watches and so on. So, I repaired and restored many clocks and watches since 1995.
Later took a turn in a other direction and studied Industrial Engineering and Management and worked as an engineer in product development and production. But watches still played an important role. In 1999 I started to travel regularly to Russia with a team of people to restore old historical clocks in Sankt Petersburg at the Tsar Palace Peterhof (some call it the "Russian Versailles"). Watchmaking somehow always was a part of my life even when I had other job titles and professions.
During these years I became more passionate about making my own watches. I mean the job title is "watchmaker". And that bothered me for long time. If I am a "watch-MAKER", then I want to make watches. Also, to just have the knowledge about something, often is not satisfying for me. The watchmaker (and good friend) Reinhold Fluethe puts it this way, "If you really want to understand something, you need to make it from scratch."
So, in 2012 I finally had the possibility to setup a workshop in our house to start my business repairing old and historical watches and clocks. After some time, I started developing my first own watch – the regulator. It was never one fixed decision to start my own brand rather than a growing idea that developed over many, many years. That is how CORNEHL Watches was born.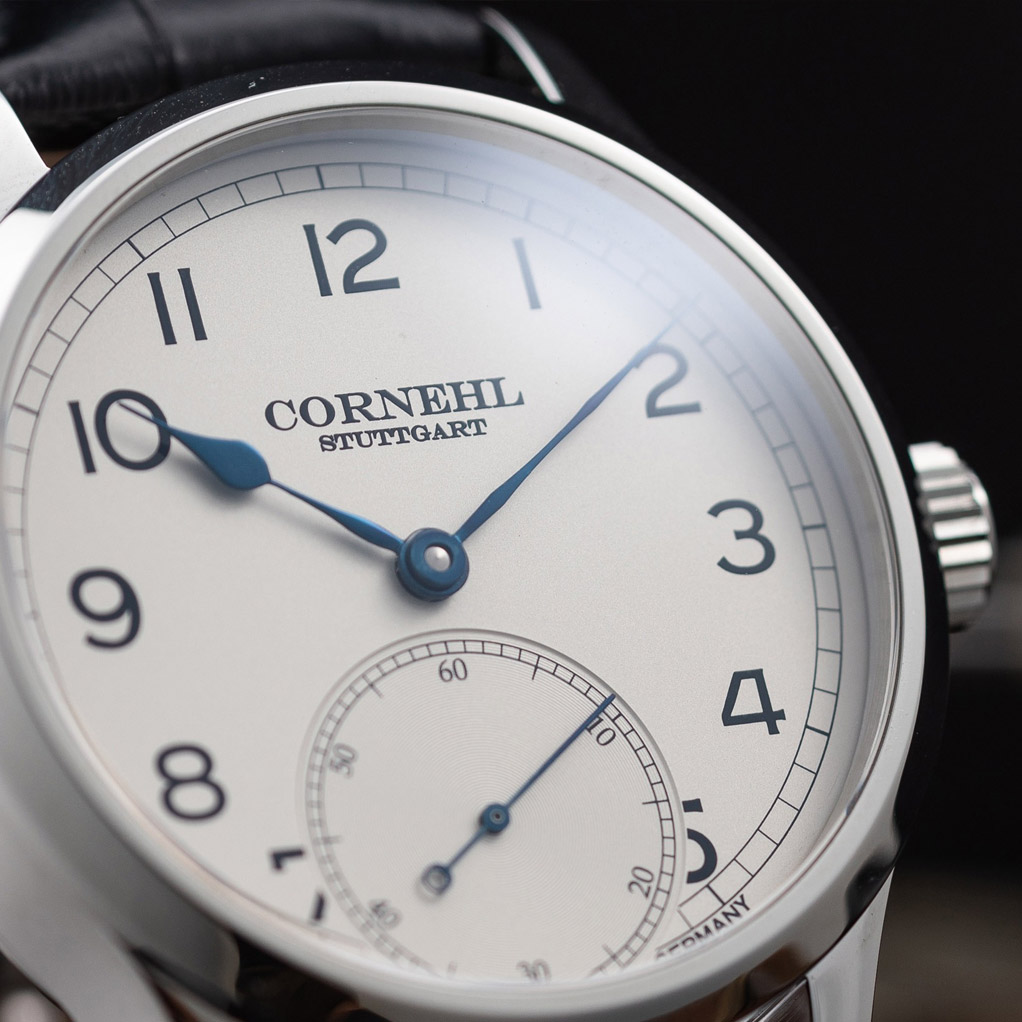 we presented to you the Regulator in our first newsletter issue, we want to take a closer look at Classic Silver Series.
As the name already indicates, the silver dial is the central feature of this handmade mechanical watch. The silver dial and grand modern designed numbers gives the watch a clear appearance, whereas the blued hands are a striking contrast on the dial. The hour and minute hand are indicated in the center, the large second hand ist shown on a second dial at 6 o`clock.
The case is made out of stainless steel and is available at two different sizes (Diameter = 40 or 42 mm) to have the perfect look at its owners wrist. The height of the case measures 11,5 mm. At the bottom behind the sapphire glass lies the movement, the heart of the watch. The handmade refined movement is based on Unitas 6498 and has been adjusted aesthetically and technically, just like the Regulator movement. The 3/4 bridge has four screwed gold Chatons and al screws have been thermally blued by hand.
The movement has a second-stop-function. The design of the watches can be customized in order to meet the owners preference of style: The case can be chosen with tapered lugs or with straight lugs. For the bezel we have flat, double-concarve or flutet once. In the version with tapered lugs we suggest a cylindric crown. The straight lugs and flutet bezel looks very fine with an onion shaped crown.
We also use antique tools: Here I use an old topping tool back from 1890 to manufacture the wheels for the Regulator.